Jennifer Lopez
presents her 17th fragrance, and it is called Love and Light. The fragrance is announced as a rich, floral-woody composition. The presentation of the new fragrance will be held for its fans on July 2, 2011.
The shape of the bottle is like in the previous Love and Glamour fragrance. Its outline resembles the shape of a beautiful female figure. The difference is that the previous fragrance was dominated by a golden color and the new one has a pearl, milky-white vial.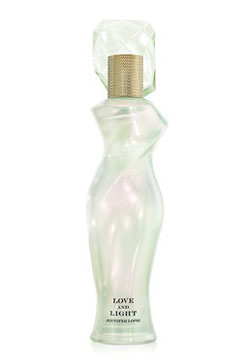 The new fragrance reflects harmony and balance, light and purity which is directly represented in the bottle and in the composition.
It will appear on store shelves this September as toilet water (30 and 75 ml), accompanied by a body lotion.
Jennifer will present the fragrance on July 2 exclusively for her fans via the HSN.com resource. During the promotion campaign of the new fragrance, Jennifer will share with the readers the stories of beauty-trends, her life and career. The Web site also offers some campaign with a personal meeting with Lopez as the main prize. Some more prizes include:
Tickets to the place of meeting with Lopez (for 2 persons)
Two nights in St. Petersburg (the Vinoy Renaissance Resort and Golf Club hotel)
$ 500 for expenses
Love and Light products